Skip to Content
Pipe Lining Sewer Repair Highland Park
Pipe lining, also called "cured in place pipe" (CIPP), is a trenchless method of pipe repair. Before you begin the hassles and expenses of traditional repiping, consider the alternative option of epoxy pipe lining. Repair damage and leaks from pinholes, corrosion, aged joints, and seams without replacing the entire pipe.
Discover why pipe lining is the proven, cost-effective way of restoring your damaged water or sewer lines.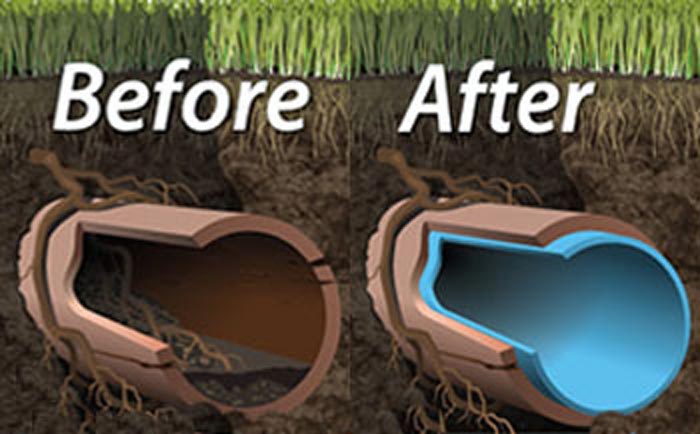 Pipe Lining Benfits
New Generation Plumbing offers expert pipe lining services in Highland Park, Pasadena, Eagle Rock, Altadena, and all of Northeast Los Angeles and San Gabriel Valley. Our clients choose epoxy pipe lining repair over traditional pipe replacement for a number of reasons:
Quick – around twice as fast compared to traditional repiping. That means less downtime for you.
Simple – Noninvasive restoration instead of the chaos of full pipe replacement.
Cost-effective – about 50% less than repiping.
Other Considerations
Traditional pipe replacement involves open trench excavation. This consists of digging a trench to expose the entire pipeline, excavating it out, and laying down a new pipe. This entire process can easily take days to complete. Not only is it time consuming, but it can cost you a lot more in unexpected expenses; excavating the old pipe may involve digging up landscape, floors, walls, stairs, and other architecturally integrated parts of your property.
If you are considering repiping, we highly recommend learning more about pipe restoration options and getting a pipe lining estimate as well.
Pipe Lining Is the Efficient Way to Restore Your Pipes
Your old, damaged pipes are first diagnosed and inspected by a New Generation Plumbing expert. We will assess if pipe lining is appropriate for your situation. You can trust our on-site plumbing specialists to be consistently honest, trustworthy and friendly.
If pipe lining is suitable for your system, the next step is to clean & prepare the inside of the pipes using a sandblaster. This removes contaminants and creates a scored surface for the epoxy to properly adhere to.
We then saturate a felt liner with an epoxy resin that we blend on site. The liner is fed through the pipe line with an inflatable bladder using a "blown-in" technique. The bladder presses the tough epoxy resin onto the inside walls of the pipe, filling in any damage from leaks and corrosion.
The bladder is deflated and removed. The epoxy liner then cures in place within hours. And the system is ready to be used again.
Considering Pipe Lining Instead of Replacement?
Before replacing, look into restoring. Contact us today if you have a damaged leaky pipe or sewer repair you are dealing with. Call us and we can answer your questions right over the phone. Our office hours are Monday-Friday 8:30 am – 5:00 pm Pacific Time. Once we find a time and day that works for you, one of our New Generation Plumbing specialists will come out and assess your situation for free.
We proudly serve Highland Park, Pasadena, Eagle Rock, Altadena, and all of Northeast Los Angeles and San Gabriel Valley areas.
Let New Generation Plumbing Help You!